Events of SRC Patna
WORKSHOP ON INTERNATIONAL WOMENS DAY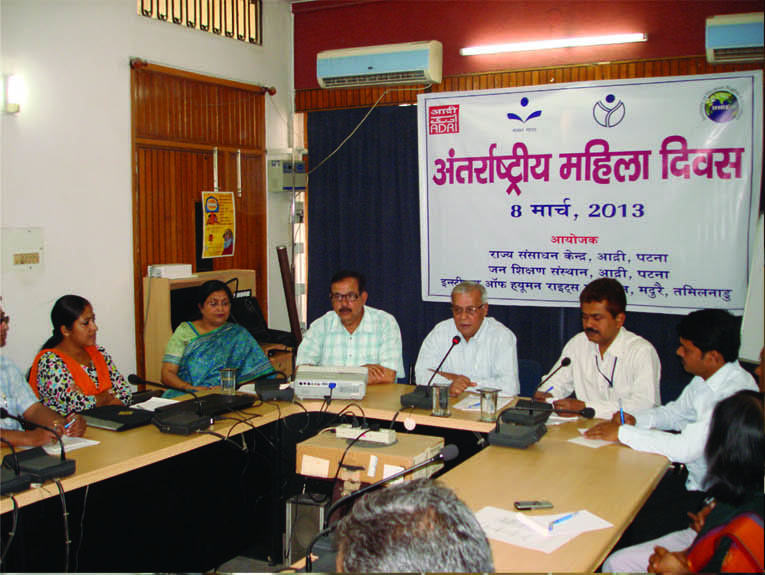 08 Mar 2013
Patna 8 March. State Resource Centre, ADRI, Jan Shikshan Sansthan, ADRI and Institute of Human Rights Education, Bihar jointly organised a Workshop on International Women's Day today on ADRI premises. In his inaugural address, Professor PP Ghosh said that the condition of women across the world is weaker than that of their male counterparts. We have done man in development during last 7-8 years. Our growth rate has increased, but there has not been any substantial change in the conditions of womenfolk. Crimes against, women in the national capital of Delhi has been on a rise. Professor Ghosh expressed concern over the decreasing number of women because of female foeticide. R.K. Shahi, Senior Economist at ADRI, also expressed his opinion on various issued on this occasion.
IHRE, Bihar, State Coordinator Rajesh Kumar Singh in his inaugural address said that women these days oare not safe even in their cradle and from villages to Delhi.
Dr. Sunita Lall of ADRI said that distinction between male and female child is begun by women at home only. This must stop. Smt. Rashmi Jha as the reference person of the workshop conducted the Technical Session of the programme and blamed ages-old traditioin for the social, economic and cultural backwardness of women.
Shri Sudeep K. Pandey of SRC, ADRI, Patna also addressed the audience on the occasion.
Shri Akhilesh Kumar, Shri Rajeshwar Sharma, Shri Bijendra Prasad, Shri Shivnath Prasad Yadav and JSS' Smt. Manju Sharan also participated in the workshop.
Shri Sandeep Kumar proposed in vote of thanks on the occasion and the same has proposed by Shri Indrajeet Goswami at the end of Technical Session.