Events of CEPPF Patna
WORKSHOP ON ECONOMIC POLICY AND DEVELOPMENT: A CRITICAL APPRAISAL ECONOMIC SURVEYS OF BIHAR FROM 2006-07 TO 2014-15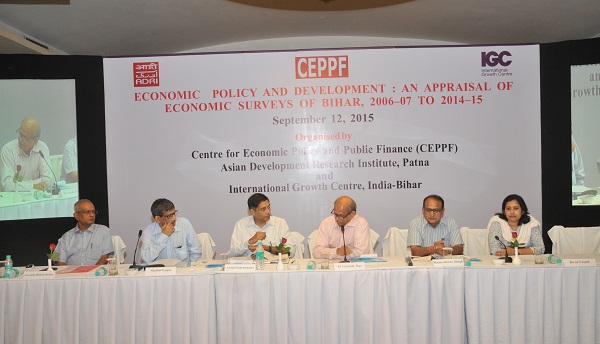 12 Sep 2015
Arvind Subramanian inaugurates CEPPF workshop on Economic Survey
India's Chief Economic Advisor Dr Arvind Subramanian was in Patna on Saturday to participate in a workshop on the Economic Surveys of Bihar from 2006-07 to 2014-15. The workshop was titled "Economic Policy and Development: A Critical Appraisal". The economic policy think tank, Centre for Economic Policy and Public Finance, which prepares the Economic Survey of Bihar, organized the one-day workshop. CEPPF, ADRI and IGC India-Bihar jointly organised the programme.
Dr Subramanian in his inaugural address said that economic surveys would do better if they could also work like a repository of policy-oriented discussions, and a comparative approach would add more value.
Scholars from CEPPF gave power point presentations on various aspects of Economic Surveys of Bihar and other states. Professor Prabhat P Ghosh discussed the 'Future Contours of Economic Survey of Bihar'. Mr Govind Bhattacharjee, Visiting Fellow, presented his ideas on 'Banking and Public Finance in Bihar'. Dr Barna Ganguli, Assistant Professor, presented her ideas on 'Economic Survey of Selected Indian States'. Dr Bakshi Amit K Sinha, Assistant Professor, gave a presentation on 'Economic Survey of Bihar (2006-07 to 2015-16)'.
Mr TN Ninan, Chairman & Editorial Director of Business Standard, Professor Anjan Mukherji, Professor Emeritus, JNU, and Professor M Govinda Rao, Visiting Professor, CEPPF chaired different sessions of the workshop.
Professor Pinaki Chakraborty of NIPFP, Dr P Balakrishnan of Ashoka University, Ms Sriparna Iyer, Team Leader, SPUR, and Dr Ashmita Gupta of ISI, Chennai were also present in the technical sessions of the workshop.
Senior government officials, including Dr Arunish Chawla, Joint Secretary (Expenditure), Ministry of Finance, Mr DS Gangwar, Principal Secretary to CM, Mr Deepak Kumar Singh, Secretary (Water Resources), Mr AK Chauhan, Principal Secretary, Mr Gulrez Hoda, Member, State Planning Board, Mr Rahul Singh, Managing Director, BELTRON, Mr Pankaj Kumar, Principal Secretary (Food and Consumer Protection) were present on the occasion.
Dr Shaibal Gupta, Director, CEPPF, welcomed the guests, and Mr Rameshwar Singh, Departmental Inquiry Commissioner, Government of Bihar, was guest of honor on the occasion.
FOR DETAILS CLICK HERE