Events of ADRI (Patna - Ranchi)
Signing of Memorandum of Understanding. Institute of South Asian Studies, Singapore and Asian Development Research Institute, India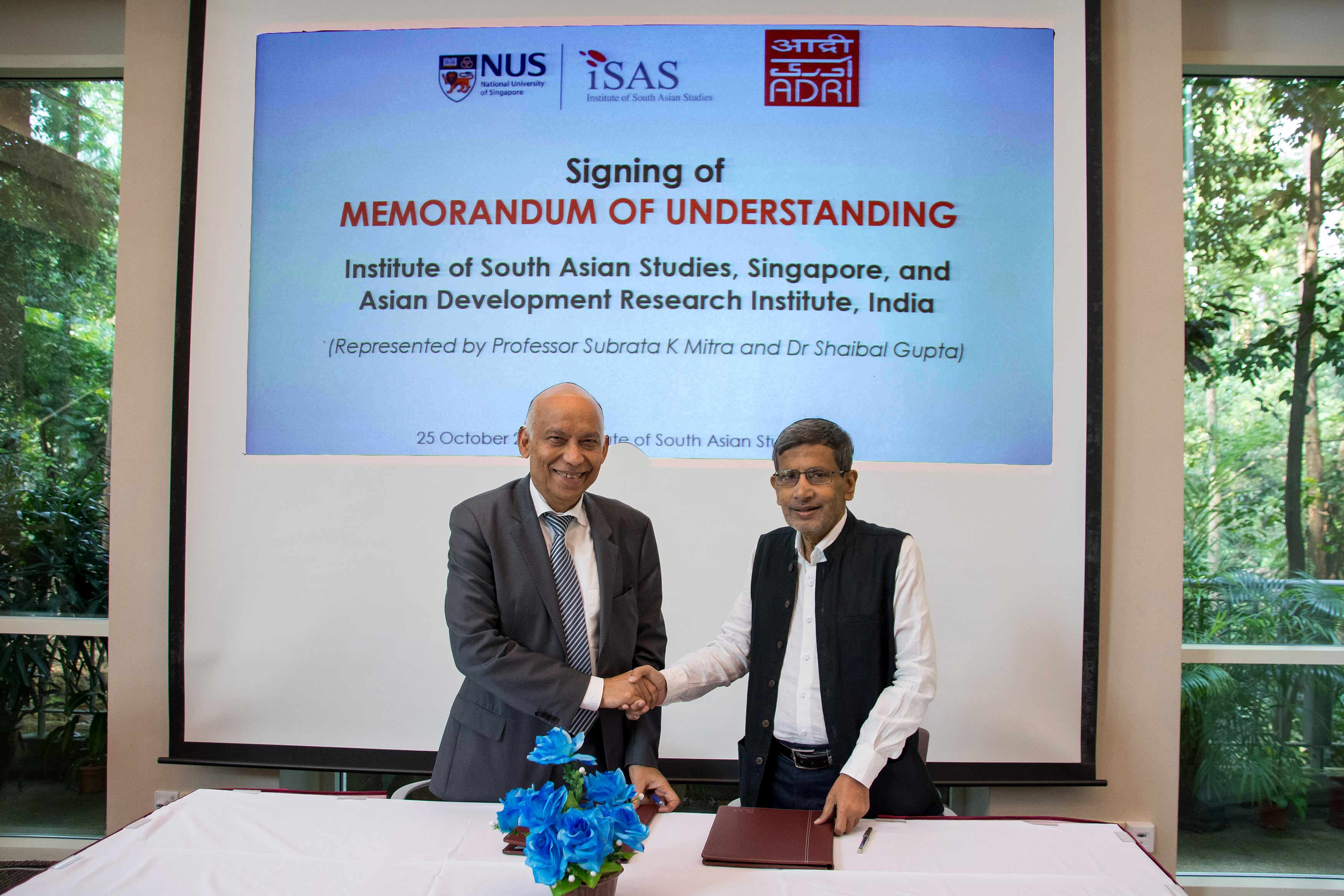 25 Oct 2017
Asian Development Research Institute (ADRI), the Patna (Bihar, India)-based social science research institute, and Institute of South Asian Studies (ISAS)-National University of Singapore organised their first joint Roundtable — the ISAS-ADRI Roundtable - in Singapore on Wednesday. The Roundtable, titled 'Political Economy of Development in Eastern India', marked the signing of a comprehensive 'Memorandum of Understanding' (MoU) between the two Institutes.
This collaboration between ADRI and ISAS is expected to identify and encourage opportunities of exchange and cooperation in various areas of research, consultation and development. The scholars of these two Institutes would be able to jointly develop programmes and undertake evaluation studies and surveys, including that in the field of literacy.
Prof. Subrata Kumar Mitra, Director and Visiting Research Professor at ISAS, in his welcome address, elaborating on Singapore's close association with Nalanda University and Bihar, said the growth trajectory of eastern India has been an intriguing research subject for NUS scholars and they have been closely studying to understand growth variations, reasons and consequences in eastern India. Prof. Mitra said "this collaboration with ADRI is going to act as a catalysing factor to encourage and support their understanding of the eastern India".
Dr. Shaibal Gupta, Member-Secretary of ADRI, in his address said that this collaboration with ISAS is a historic moment. He said "the mandate of ISAS is South Asia, and our mandate is Asia, however we have been working mainly on Bihar. If India is 'south', then Bihar is 'south within south'. ADRI's work has expanded beyond in India, eastern India in particular. With our marriage with ISAS, we shall transcend beyond our country in our academic tryst."
The Roundtable witnessed a total of 5 paper presentations by scholars from ADRI and ISAS. The presentations were all based around the theme of the Roundtable.
Mr. Neeraj Kumar, Managing Editor at the Centre for Economic Policy and Public Finance (CEPPF), ADRI, talked about the challenges of the BCIM Corridor and foreign policies built around that in his paper that was titled 'Crouching Tiger, Flying Dragon: BCIM Corridor in limbo'. This was followed by Dr. Sojin Shin's presentation 'State-Society Relations and Economic Performance in Odisha'. The third presentation by Dr. Amit Ranjan of ISAS discussed the political economy of water in the Teesta river basin. Dr. Abinash Mohanty, Project Director at the Centre for Environment, Energy and Climate Change (CEECC), ADRI, presented his paper titled 'India's Lore to Combat Climate Change'. The paper was a narrative on various traditional knowledge and practices of India to combat climate change. The last paper titled 'Economic Potential of Eastern India - the Emerging Sectors' by Dr. Amitendu Palit, Senior Research Fellow and Research Lead (Trade and Economic Policy), ISAS, NUS, was a detailed analysis of eastern India's development and growth challenges and India's responses so far.
The programme ended with the closing remarks by ISAS director, Prof. Mitra.