Events of ADRI (Patna - Ranchi)
Seminar on Egypt-Renewing the Social Contract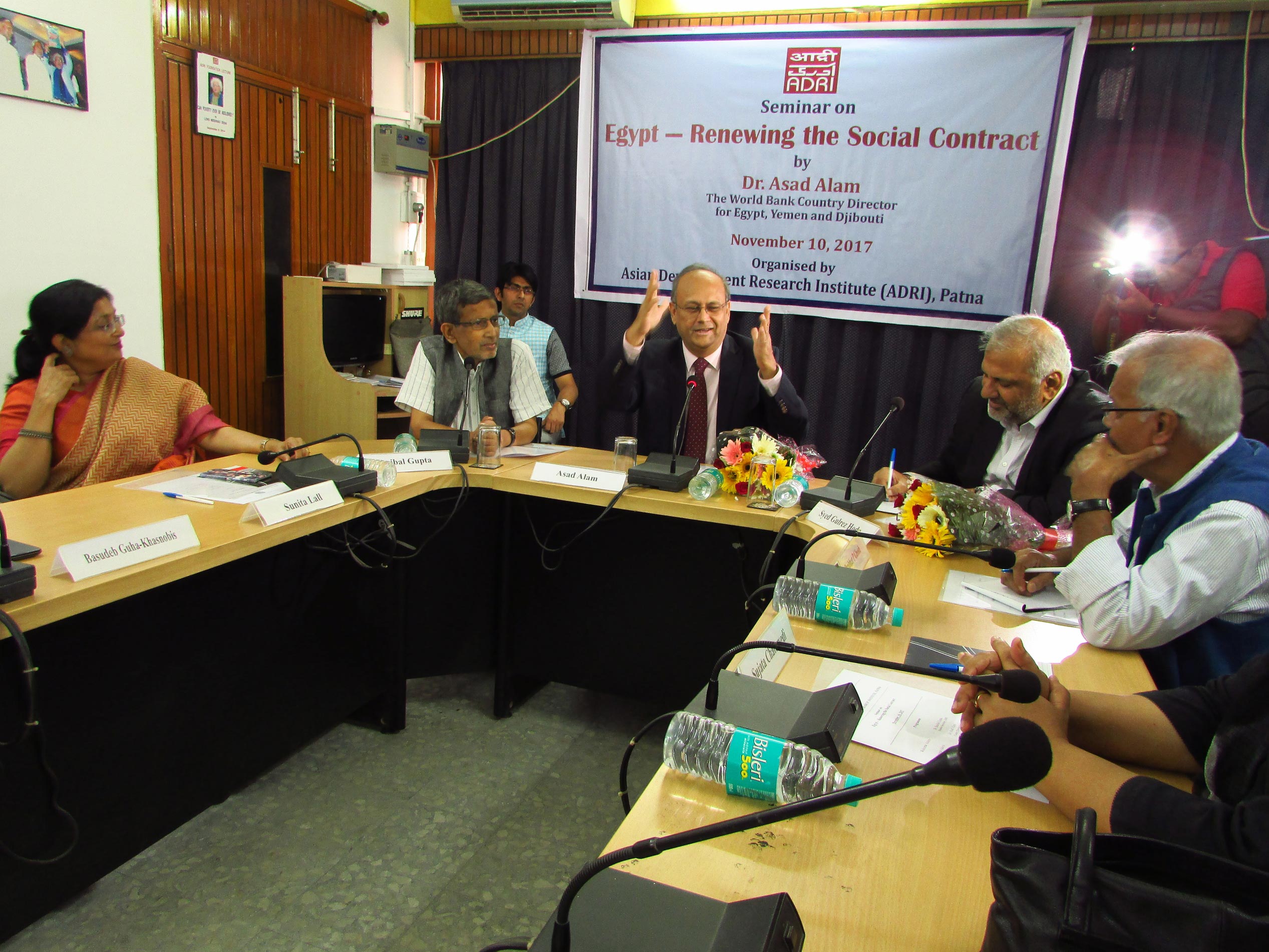 10 Nov 2017
Patna, November 10: "Egypt has undertaken a slew of reforms during the last three years to pull its economy out of decades of slumber – the same set of uncertainties where people were outraged over worsening public services, suffering from high rates of stunting and huge spatial inequalities which triggered Arab Spring." Dr Asad Alam, World Bank's Country Head for Egypt, Yemen and Djibouti said this while delivering a talk at ADRI on Friday.
Alam said he titled his talk as 'Egypt – Renewing the Social Contract' as he felt the country had once pledged a kind of highly inclusive 'contract' to Egyptians in the form of inclusive education, better health and jobs. Alam said social contract can have different meanings as society keeps evolving, and the contract must change accordingly, too.
Drawing similarities between India and Egypt, Alam said both the countries have suffered from huge subsidy spends for a long, long time. "For 20 years there were no changes made to the price of petrol, and when the subsidy zoomed to more than 100 percent and outnumbered the cash the country spent on healthcare and education taken together it began feeling the heat. So, among the first salvos that Egypt fired as part of its multi-pronged reforms was the Subsidy reduction programme few years back," Asad said, adding that "in the last three years, subsidies have been actually cut to 3 percent of the GDP."
Talking about another mega reform that Egypt undertook, Alam said the country kick started its industries by opting for solid currency depreciation, probably to the tune of 120 percent, and this incentivized its export of textiles and other things. "Another mega reform that Egypt has undertaken is to increase the Ease of doing business in the country; interestingly India and Egypt are quiet close to each other on this count."
Further, what can be easily perched on the three pins of this triangle of reforms Egypt went for in the last couple of years, Alam said, includes increasing the transparency and efficiency of public spending, focusing on inclusivity of its institutions, sending more and more cash to the local level, and heightening the voice and participation of common Egyptians.
Earlier, Dr. Shaibal Gupta, Member-Secretary, ADRI welcomed the guests and introduced the Speaker. Mr. Syed Gulrez Hoda, Member, Bihar State Planning Board presided over. Eminent participants included Dr. Sujata Chaturvedi, Shri Rameshwar Singh, Dr. AA Hai, Dr. Suman Singh, Shri Anil Kishore Yaday, Shri Pravin Kishore, Dr. Ras Bihari Prasad Singh, Dr. Dolly Sinha, Dr. Nandini Mehta and Dr. Sunita Lall. Professor Prabhat P Ghosh, Director, ADRI proposed the vote of thanks on the occasion.