Events of CEPPF Patna
RELEASE OF DOCUMENT MEMORANDA TO FOURTEENTH FINANCE COMMISSION BY SHRI ABDUL BARI SIDDIQUI, HON'BLE FINANCE MINISTER, BIHAR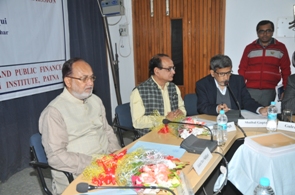 11 Dec 2015
The document 'Memoranda to the Fourteenth Finance Commission' was released today by Bihar's Finance Minister, Shri Abdul Bari Siddiqui at the Asian Development Research Institute (ADRI) premises. Apart from the memorandum presented to the Finance Commission by the State Government, the document also includes the Joint Memorandum submitted by all political parties in Bihar. The value of the document was even more increased because it contains an analysis of the recommendations made by the Fourteenth Finance Commission with special reference to Bihar.
The function was presided over by Rameshwar Singh, IAS and attended by Bijendra Prasad Yadav, Gulrez Hoda, Rambachan Rai, Anjan Mukherjee, Shrikant and many other dignitaries. In their addresses, the speakers discussed about the necessities of expenditure reforms and taking more loans for development process in Bihar. All the speakers also appreciated this act of documentation on the current policies of Bihar, a practice which was absent earlier.
Dr. Shaibal Gupta had welcomed the guests and a vote of thanks was proposed by Dr. Prabhat P Ghosh.