Events of ADRI (Patna - Ranchi)
Regional Consultation against Child Labour, Sex-Trafficking and The Last Girl and Public Lecture on Social Change through Legal Practices: The Last Girl by Professor Catharine Mackinnon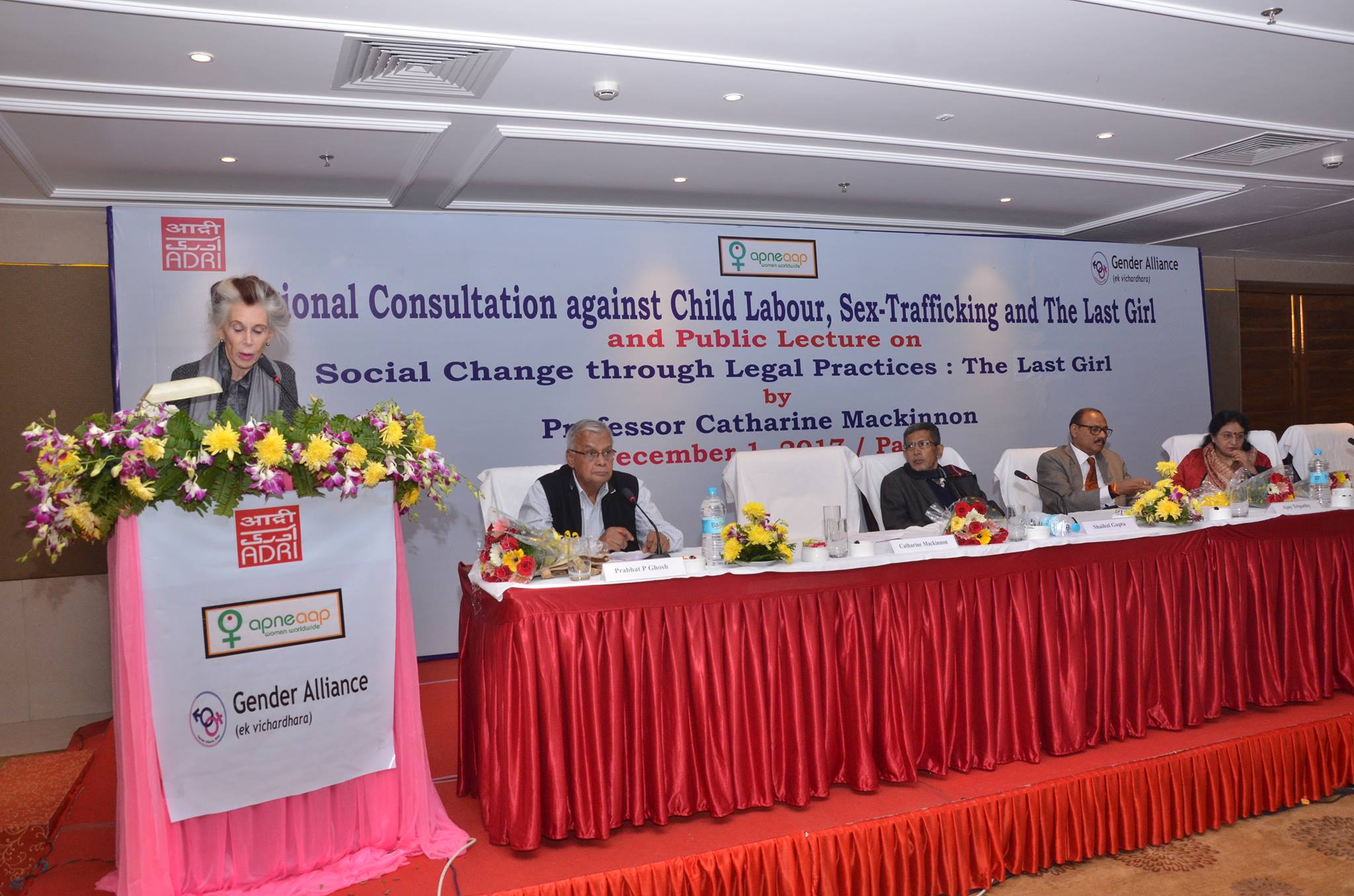 01 Dec 2017
Patna, 1st December 2017. The last part of a three-city series of consultation meetings on child labour and sex trafficking was held in Patna today. It was organized by Apne Aap Women Worldwide, Gender Alliance and Asian Development Research Institute, ADRI, Patna. In the meeting, Professor Ruchira Gupta said that women's issues were ignored by the mainstream Press when she was working for them. So, she decided to bring them to the fore by establishing an institution called "Apne Aap Worldwide". It would address the evil of sex-trafficking.
Nadeem Noor of UNFPA suggested that Bihar should empower its youth in order to invigorate the economy. Vinay Kumar, ADG of Bihar Police said that the Police should respond promptly and prosecution should be timely in cases of violations of child labour. Deepak Kumar Singh, Principal Secretary, Labour Resources Department opined that the new laws enacted by the government with regard to child labour was progressive. Dr. N. Vijaylakshmi, Managing Director, WDC talked about the state's response at the policy and programme level. No government had previously talked about dowry as a social evil. Professor Ruchira Gupta gave a vote of thanks for the first session of the consultation meeting.
Prof. Catherine A. MacKinnon, who is a ground-breaking lawyer, global activist, and prolific writer, and teaches law at the University of Michigan and Harvard delivered a public lecture on "Social Change through Legal Practices : The Last Girl" at the meeting. This can also be considered as the ADRI Foundation Lecture for the year. Prof. MacKinnon has pioneered the legal claim for sexual harassment in the world. Her interactions with "Apne Aap World Wide" have led to a successful Patna High Court order to combat sex-trafficking.
Dr. Shaibal Gupta, Member Secretary, ADRI welcomed the guests and said that the lecture was to highlight the vulnerabilities of the "last girl" or the victim of sex-trafficking.
Justice Shree Ajay Tripathy, while presiding over the lecture, suggested that enforcement and implementation of laws in the field of child labour, human trafficking, etc. was very important.
Justice Anjana Mishra addressed the audience as a Special Guest. Professor Prabhat P Ghosh, Director, ADRI proposed a vote of thanks. Dr. Sunita Lall, Dr. Ushashi Gupta, Tinku Khanna, Nisha Jha, Sister Sushita, Abinash Mohanthy, Satyajit Kumar Singh also graced the occasion. Many lawyers and other intelligentsia of Patna were also present.