Events of ADRI (Patna - Ranchi)
Pavan Varma's Book The New Indian Middle Class Released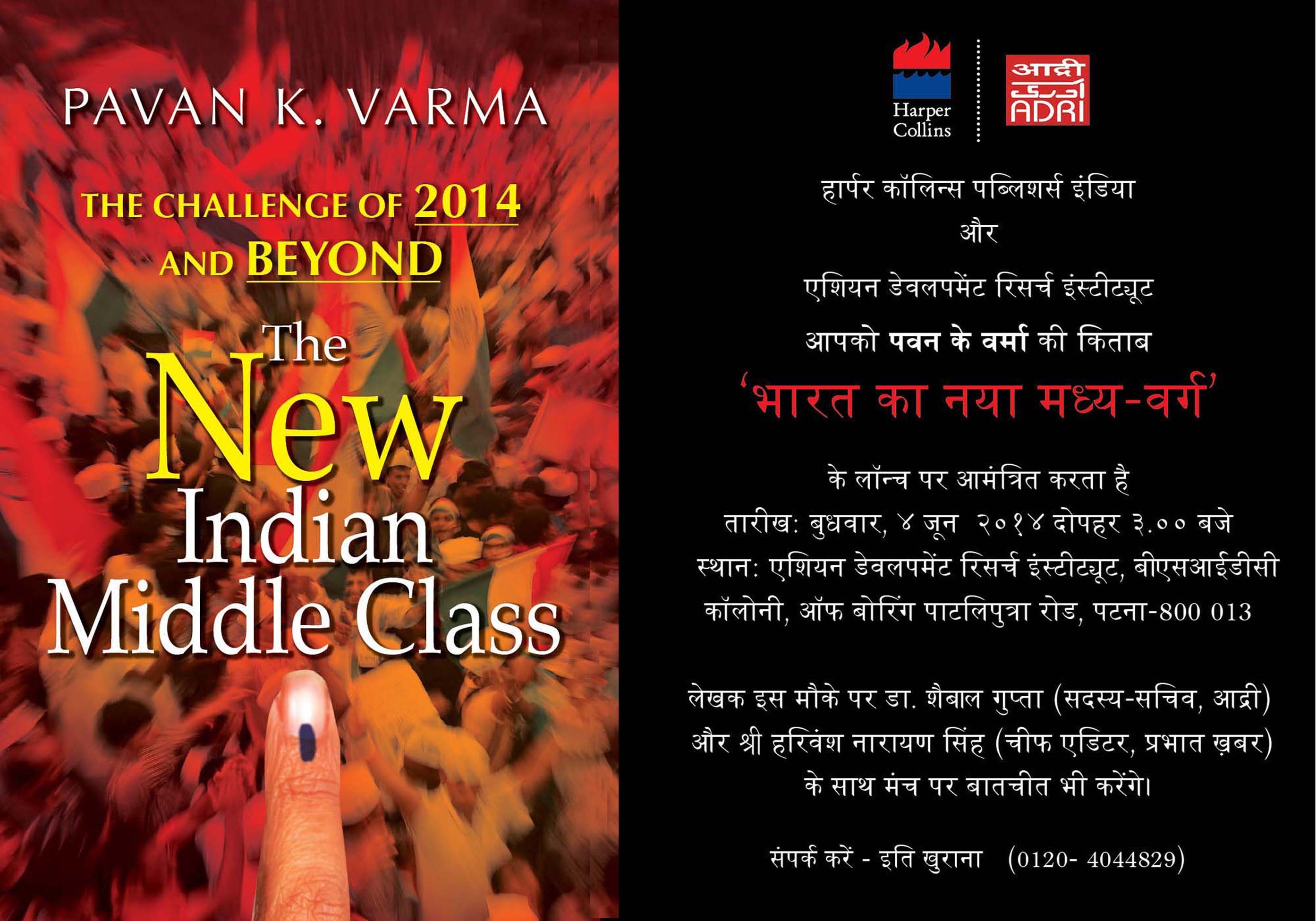 04 Jun 2014
PATNA, 4 June: Pavan Varma's new book "The New Indian Middle Class" was released at a function at ADRI today. Journalist and Rajya Sabha member Dr Harivansh, Hindi journalist and the director of the Jagjivan Ram Institute of Social Studies Patna, Shree Shrikant, along with Dr Shaibal Gupta of ADRI released the book.
Speaking on the occasion, the author of the book said that the new middle class's expanse all over the world has given rise to a whole new world view. And the world needs to recognize and measure this class's contribution to the making of this world order.
The Indian middle class is a young pan India class which ably uses the new social networks to fan out its opinions across the country and has been able to guide the political discourse in the country. The challenge before this class is to move beyond being mere agitationists to drivers of real political and social changes.
On this occasion, Mr. Harivansh spoke on how a great transformation of the middle class has taken place in India.He hoped that this book would play an important role in starting a serious discussion regarding middle class aspiration and its role in the current political and social scenario.
Dr. Shaibal Gupta on the occasion highlighted the fact about how the 25-something youngsters in India are re-writing the rules of engagement for modern Indian society. "A whole new class of budding and entrepreneurially acting youths is accepting challenges and problems of society - and it is with this spirit we should not underestimate this young new middle class," said Dr Gupta.
This is second book by Pavan Varma on the theme. His first had appeared in 1997 and was titled The Great Indian Middle Class, which had remarkably talked about the formation and the complexities of the 'middle class' of the country.
For More Visit :- https://www.facebook.com/events/646387315442671/?ref=22
http://www.youtube.com/watch?v=12HhYeyQa38