Events of CEECC
National Symposium on Climate Change Mainstreaming in Bihar and Release of Report on Financial Framework for State Action Plan on Climate Change(SAPFIN)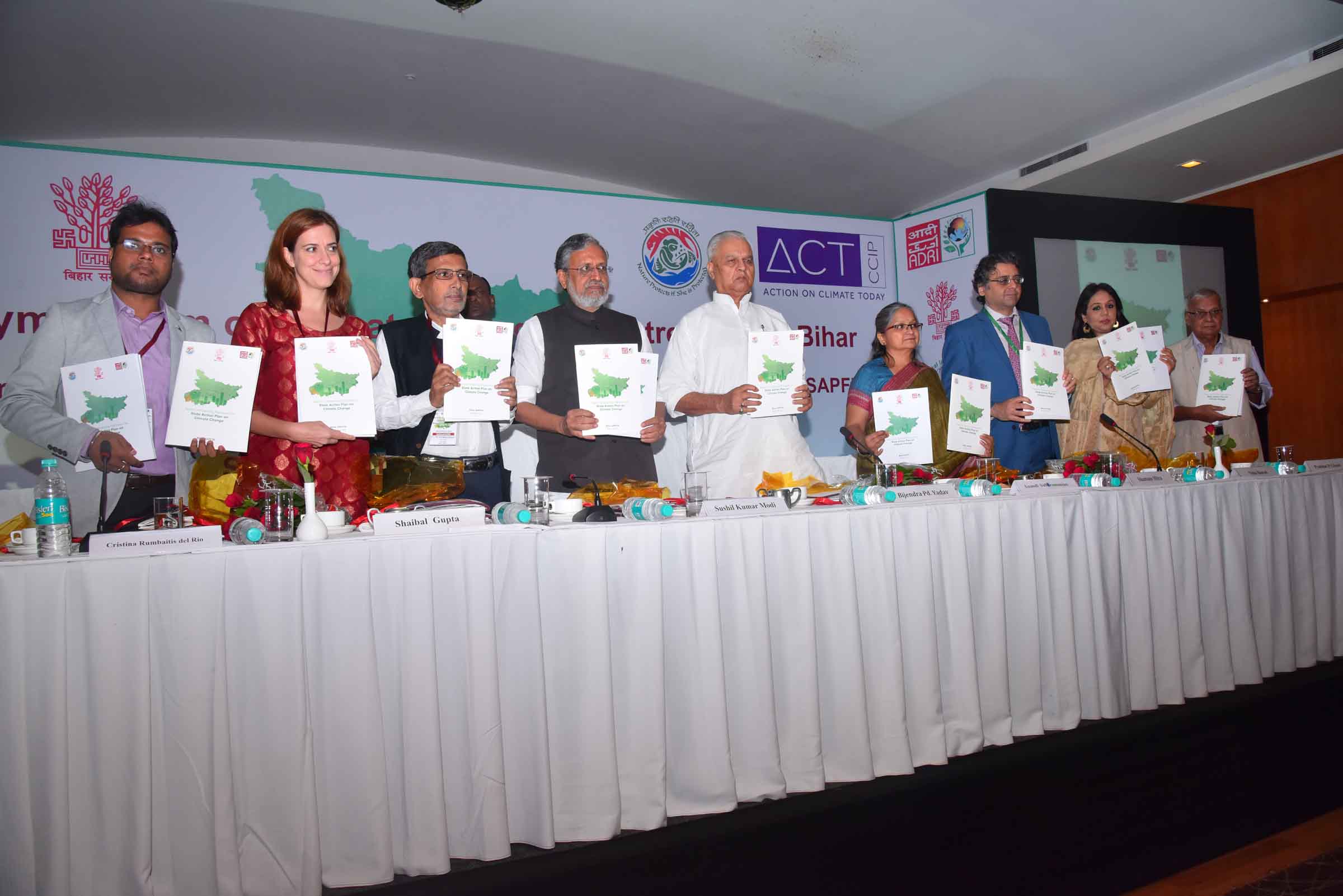 26 Sep 2017
The Honourable Deputy Chief Minister of Bihar, Shree Sushil Kumar Modi, released the State Action Plan Financial Framework (SAPFIN) at the National Symposium on Climate Change Mainstreaming in Bihar held in Patna today organised by Centre for Environment, Energy and Climate Change (CEECC) at Asian Development Research Institute (ADRI) in collaboration with Action on Climate Today (ACT), DFID-Climate Change Innovation Programme.
"Climate change is the biggest challenge in the world today. SAPFIN will act as a guideline for Bihar State Action plan on Climate Change. Four thousand people and 42,000 thousand animals have died because of floods in Bihar since 2005. There is an increase in flood frequency and areas such as Kishanganj and Araria are now facing floods," said the Deputy Chief Minister.
He also spoke about the need to fulfill personal responsibility on climate change action: "We need to take small steps to achieve this big target. The affluent and educated people can take leadership role in reducing their carbon footprint, using energy efficient appliances and inspiring others."
Cristina Rumbaitis del Rio, Regional Programme Manager ACT and Dr. Sunita Lall, Treasurer, ADRI signed a Memorandum of Understanding to continue working together on climate change adaptation measures in Bihar. The Symposium, consisting of national and international experts, deliberated on the key issues centred on climate change mainstreaming such as state and nation action plan on climate change and climate change financing. "SAPFIN will allow for synergies between the State budget priorities and implementation of Bihar State Action Plan on Climate Change," said Cristina.
SAPFIN is a guiding document to financing the Bihar State Action Plan on Climate Change. It analyses Bihar Government's ongoing activities through the lens of climate change adaptation but also assesses their contribution to the Sustainable Development Goals (SDGs). It provides a structural analysis and a decision-tool to combat climate change-induced disasters pre-emptively. Some of the key risks identified in Bihar are as follows:
The impact of flooding can be catastrophic and is especially serious in 28 northern districts. Floods lead to losses in crops and property, disruption to livelihoods, environmental destruction, disease outbreaks and loss of life.
Droughts are a serious source of loss and damage in 10 districts in the south and lead to crop failure and health and productivity problems associated with safe water supply.
The report suggests that the total expenditure in the 2017/18 budget for climate change sensitive departments is Rs. 68,495 crores. This will need to increase by 13% in nominal terms simply to maintain the current level of services in the face of inflation.
The additional 11% (i.e. about Rs 7500 crores) would be available either to increase the priority for actions already in the budget or for the funding of the actions identified in chapter 3 which is being considered as new actions.
The report highlights the strong need for technical capacity building to improve understanding of climate change and the environment, both in technical institutions and in the key line departments. This should include monitoring the latest evidence on climate change projections for Bihar and the potential impact of climate change on the economy, society and environment of the state.
Earlier, Dr. Shaibal Gupta, Member-Secretary, ADRI welcomed the guests and Professor Prabhat P. Ghosh, Director, ADRI stated about the background and objectives of the Climate Change adaptation programmes undertaken. Shree Abinash Mohanty, ING Project Director cum ENVIS Coordinator, CEECC at ADRI gave an overview of the report on Financing Framework for State Action Plan on Climate Change (Bihar SAPHIN). Dr. Anandi Subramanian, Senior Economic Adviser, Ministry of Environment, Forest & Climate Change gave a key note address.