Events of CHP
Evidence Based Research on Health in Bihar: A Consultative Workshop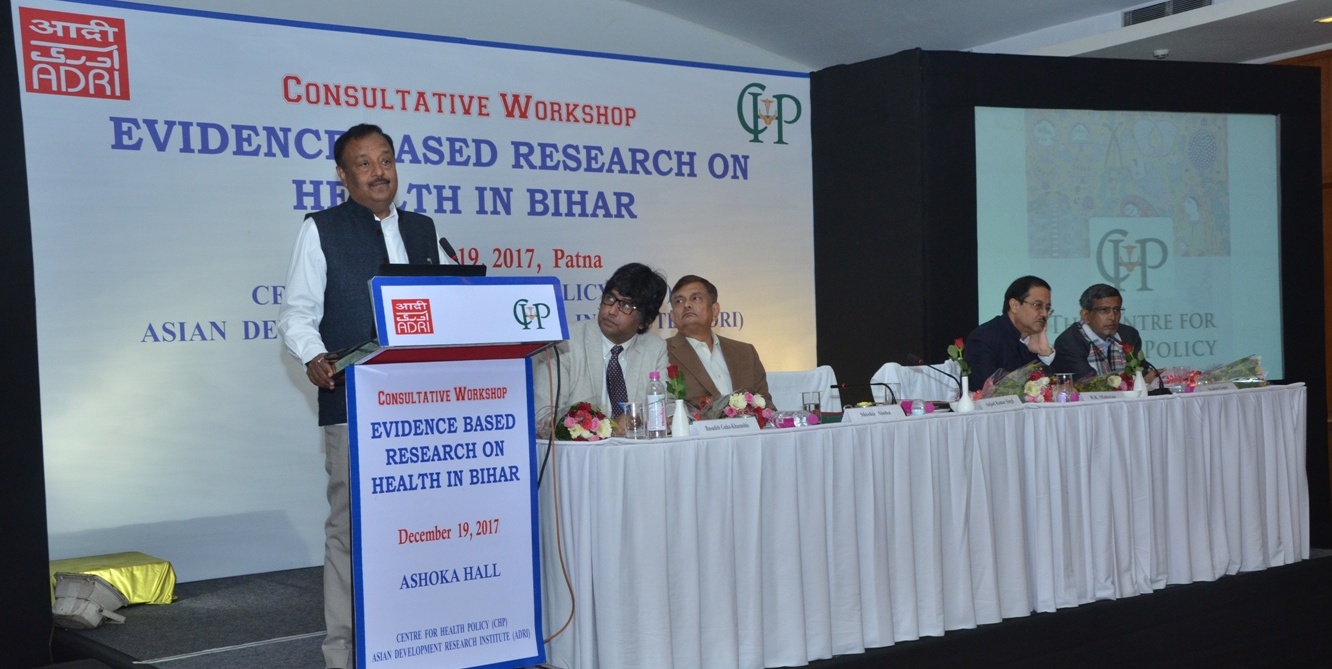 19 Dec 2017
Date – 19/12/2017 (10 AM to 5 Pm)
Venue – Hotel Maurya, Patna
Patna, 19 December. The Centre for Health Policy at ADRI organized a consultative workshop on "Evidence based research on Health in Bihar" today.
Chief Guest of the event, Chief Secretary Mr. Anjani Kumar Singh remarked that "Implementation is the main challenge, although Bihar spends hugely in the social sectors of health and education. New areas where CHP must work should be mental health, stunting and disability." He noted that female access to health facility is still low. The GoB is contemplating declaring a "only female day" in a week in hospitals. Mr. Singh emphasized the lack of human resources and equipment. He also said financial literacy and awareness is crucial in ensuring schemes like Direct Benefit Transfers are effective. He said CHP will be counted upon for policy support on next generation reforms.
Development Commissioner, Mr. Shishir Sinha said he was impressed by the highly qualified, erudite scholars of CHP and welcomed the establishment of such a centre. He expressed great hope and expectations from CHP in the coming days.
Principal Secretary Health, Mr. RK Mahajan emphasized two major challenges : shortage of specialist doctors and the work culture among doctors and paramedics. Preventive health is an area where more effort is required. He pointed out commendable achievements in reducing IMR, MMR, TFR and the coverage of immunization, which currently stands at 84%. In 2005, only 39 persons were visiting health facilities – now it is more than 10000 per month.
The Director of CHP, Dr. Basudeb Guha Khasnobis and colleagues analyzed morbidity and health seeking behaviour in the state. He noted a significant rise in maternal health seeking behaviour including rise in institutional delivery. However, out of pocket expenses for hospitalization went up significantly, and contrary to expectations, having insurance led to higher out of pocket expenses. There are also significant differential effects of literacy, livelihood, caste and location on the different health seeking indicators. The study on demography of Bihar found significant correlation between literacy and both TFR and IMR.
The importance of regulation of the health system was emphasized, drawing on global and national experiences.
The distribution of C-section and its predictor, as well as the extent of unmet needs for family planning was analyzed. Mental health was highlighted as an emerging challenge particularly for the adolescents. Its strong human right perspective was clearly highlighted. Finally, the role of technology in strengthening the health system was discussed with concrete examples.
Dr. Shaibal Gupta, Member Secretary, ADRI welcomed the distinguished guests and encouraged Centre for Health Policy to rigorously analyze the huge amount of data on health that is available on Bihar. Professor Prabhat P Ghosh, Director, ADRI proposed the vote of thanks.