Events of ADRI (Patna - Ranchi)
Economic Survey Outreach Session Address By Dr. Arvind Subramanian, Chief Economic Advisor To The Government Of India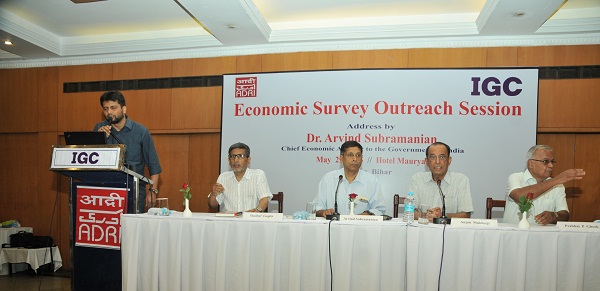 29 May 2015
Bihar is amongst the few states in India that can leap-frog in terms of development." These were the words of India's Chief Economic Advisor, Dr Arvind Subramanian. Dr Subramanian on Friday was speaking at the Economic Survey Outreach Session in Patna. ADRI and IGC India-Bihar jointly organized this one-day program.
Dr Subramanian suggested that Bihar is bound to benefit from the 14th Finance Commission's recommendations about the devolution of fund from the divisible pool of taxes. He also urged the State Finance Minister Mr Bijendra Prasad Yadav to look into the prospect of pruning allocation by taking a leaf from the practices the Centre has recently adopted.
Talking about why it's not a prudent move for the poorer states to attract financial aid in huge caches, Dr Subramanian said the history of financial and foreign aid is witness to the fact that development and growth cannot occur in such states in such a scenario, and states in order to surge ahead must strengthen their institutions and retain human capital, he added.
The Government of India this year is disseminating information on the Economic Survey to a larger audience possible and spread across the country, with the purpose of making more and more people aware of the state of India's economy. "Before Bihar, the Central government has conducted 'Outreach Sessions' in a few other states," informed Mr Rabi Ranjan, an Indian Economic Service officer with the Union Finance Ministry.
Opening the session, Dr Shaibal Gupta, Member-secretary, ADRI, in his welcome remarks said "this initiative of Dr Subramanian will help us, amongst other things, in fine-tuning the preparation of annual Bihar Economic Survey that the Centre for Economic Policy and Public Finance (CEPPF) has been preparing for the last nine years." Dr Gupta is the Director of CEPPF - a State government unit hosted by ADRI. Dr Gupta in his remarks appreciated the academic contributions of Dr Subramanian.
The programme began with a brief silence observed in memory of Nobel laureate Professor John Nash, who gave the famous concept of Nash Equillibrium to the world of economics. Nash died couple of days ago in a road accident in New Jersey.
Professor Anjan Mukherji, Country Director, IGC, in his presidential address said Professor John Nash was truly a beautiful mind.
Professor Prabhat P Ghosh, Director, ADRI, read the vote of thanks on the occasion.State Finance Minister Mr Bijendra Prasad Yadav and Principal Secretary (Finance) Mr Ravi Mittal were present on the occasion. Economists, intellectuals, and faculty members and students from prominent academic institutions had their queries answered during the Q&A session that followed the presentation by the Chief Economic Advisor.
Economic Survey's release precedes the General Budget presentation in Parliament, and serves as one of the significant Central government reports on the health of India's economy. The Survey is a unique study for it compiles the data of all the sectors of economy to document the annual growth story of India.