Events of The IGC-BMGF
Dissemination Workshop and Book Release : Rural-Urban Migration in Bihar by Dr. Indrajit Roy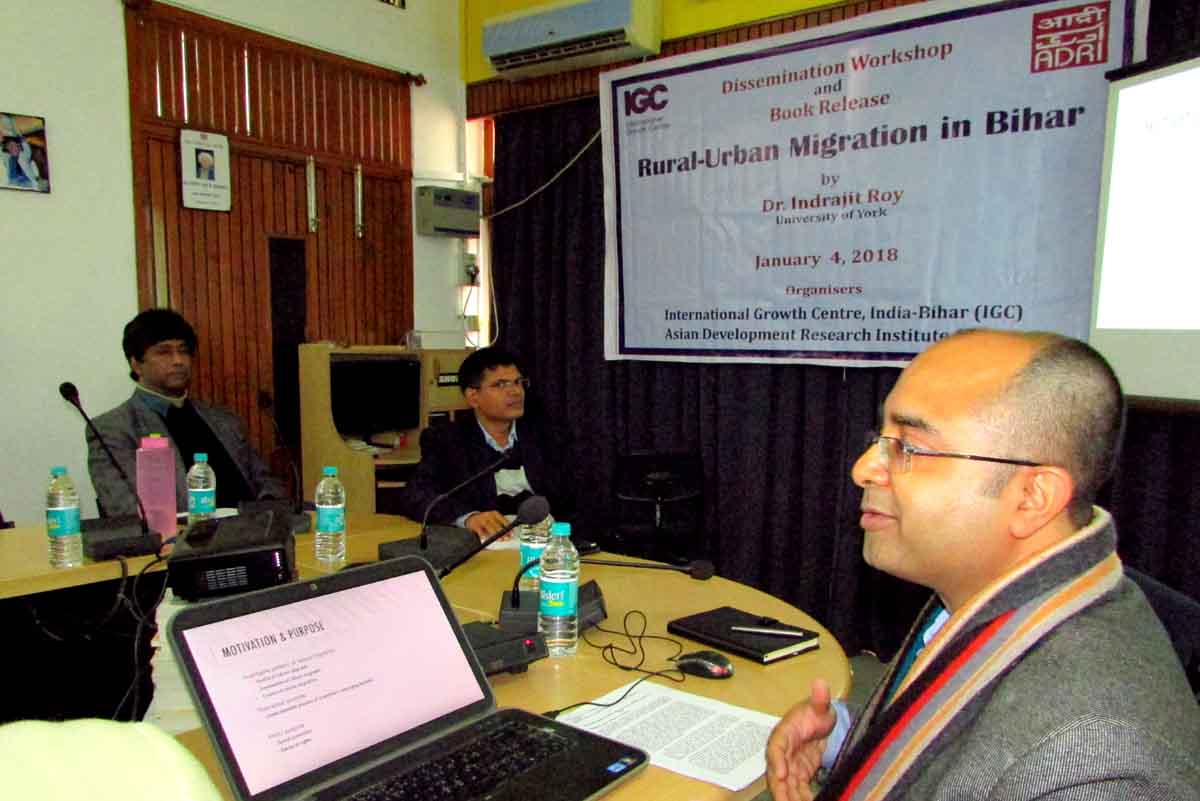 04 Jan 2018
Time : 2.30 PM to 4.00 PM
Patna, 4 January. The International Growth Centre (IGC) Bihar Programme organized a dissemination workshop on Rural-Urban Migration in Bihar at ADRI today. Dr. Indrajit Roy of University of York presented the findings of the research project. Dr. Roy said that there are enormous changes in the destinations and occupational profiles of labour migrants from the state. For example, there is a growing preference for workers to seek work in the southern states, indicating that language is not a barrier. Furthermore, the occupational profile is increasingly diverse, with workers not only seeking employment in the usual agricultural, manufacturing and services work but also labour contracting, assistance to land brokers and political mediation.
On the question of why people migrate, the study reveals that perceptions of self-respect and dignity (ijjat) were as important (if not more) than the usual factors- such as poverty ('pushing' out workers from the village) and economic growth ('pulling' workers out of the village). Migration in India is transient, meaning it is unlikely to lead to settled urbanization. The ex-socialist countries of eastern Europe are also witnessing the same kind of transient migration. Rather, migration in India is circular.
This means policy-makers have to take seriously the portability of social entitlements, housing rights and voting rights. There was a recent debate in Parliament about NRIs getting the vote. Dr. Roy held out a similar case for internal migrants in India.
Dr. Basudeo Guha-Khasnobis, Director, Centre for Health Policy at ADRI introduced the speaker. Mr. Gopal Meena, Labour Commissioner, Government of Bihar presided over the session. Mr. Amit Choubey, Ms. Ranjana Kumari, Mr. Manish Prasad, Dr. Vikash R Keshri and Dr. Sunita Lall participated in the discussion. Mr. Kumar Das of IGC proposed the vote of thanks.
Project website:
www.livesonthemove.com