Events of ADRI (Patna - Ranchi)
ADRI Silver Jubilee Celebrations 2016-17: Curtain Raiser Lecture On India's States The Struggle To Govern By James Manor, Emeritus Professor, Institute Of Commonwealth Studies, University Of London.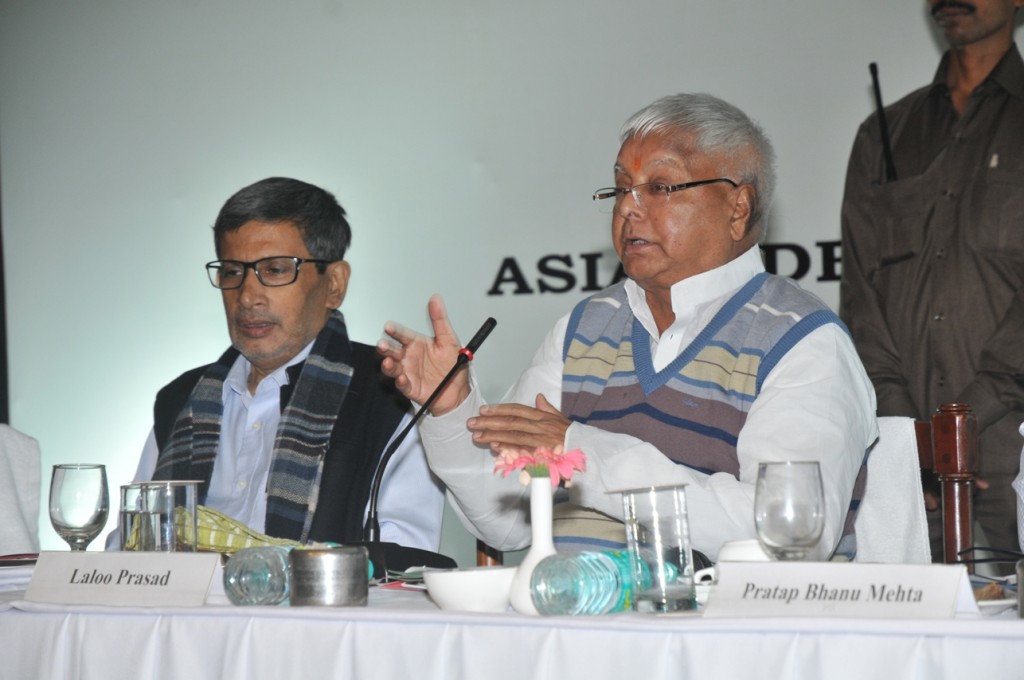 30 Nov 2015
ADRI Silver Jubilee Celebrations 2016-17: Curtain Raiser Lecture on India's States The Struggle to Govern By James Manor, Emeritus Professor, Institute of Commonwealth Studies, University of London. On November 30, 2015 at Hotel Maurya, Patna.
Patna, November 30 : Political Scientist Professor James Manor delivered the ADRI Silver Jubilee Curtain Raiser Lecture titled 'India's States - The Struggle to Govern' at a hotel here on Monday. ADRI is celebrating its Silver Jubilee Year in 2016-17 and this lecture was the curtain raiser event of the forthcoming celebrations of ADRI.
Former Chief Minister Shree Laloo Prasad was the chief guest on the occasion. Shree Laloo Prasad said Bihar's revenue remains in the hands of Delhi and there are enough reasons to claim that Bihar is still being marginalised in allocation of funds." He said that the fight of social justice has still a long way to go before Bihar can move on the path of prosperity.
Earlier Dr. Shaibal Gupta welcomed the guests and Dr. Sunita Lall introduced the guests to the audience.
Professor Manor in his half an hour lecture talked about how some Indian states have seen large scale centralization and strengthening of chief ministers of those states. At the outset only, Prof. Manor declared that his lecture is not much about Bihar in particular but about many Indian states.
Prof. Manor said: "It is not easy being a Chief Minister of an Indian state. Demands from many different interest groups are hard to satisfy. Voters are sophisticated and impatient. Development is difficult to achieve. Most political party organisations are weak. Bureaucracies in some states are in bad shape. A Chief Minister needs to be a good administrator, a good communicator, a clever manipulator of people and interests - and much more. The job has become easier since 2003 when government revenues began to increase rapidly. That trend continues even now. State governments have more money to spend and can do much more than before 2003. But life is still very challenging for any Chief Minister. States have always been very important in India. It is there that most of the governing occurs."
Finance Minister Shree Abdul Bari Siddiqui, Energy Minister Shree Bijendra Prasad Yadav, Tourism Minister Smt. Anita Devi, Former Vidhan Sabha Speaker Shree Udai Narayan Chaudhary, several new legislators and politicians, senior bureaucrats including AK Chauhan, Manoj Srivastava and others were present on the occasion.
ADRI's Director Professor P.P. Ghosh paid the vote of thanks on the occasion.